MapsGalaxy by MW attempts to promote Ask search while collecting user interest data
MapsGalaxy is a suspicious browser add-on created by Mindspark Interactive which changes the browser's homepage and forces to use Ask.com search engine. The extension for the most popular web browsers (Chrome, Firefox, Internet Explorer) is advertised as a handy tool to get maps, directions and web search at once, however, it can hardly benefit you more than a simple search engine like Google can do.
After installation of this browser extension, all your searches will be routed to int.search.myway.com, which delivers customized, or in other words, altered search results by Google. These results might contain more ads than usual.
Some computer security experts classify Maps Galaxy Toolbar as a browser hijacker since it alters settings that typical browser hijackers aim at. In general, browser add-ons like this one is hardly useful and can silently collect data about you as a user, including your interests, search queries and browsing history. What is more, this extension has only 1 out of 5 starts rating by users on TrustPilot.
It goes without saying that it is better to get rid of such extras without any regrets. Therefore, if you're interested in ways to remove MapsGalaxy add-on and related components, see the tutorial provided below.
If you accidentally added Maps & Directions, you probably do not know what privileges this sneaky hijacker has on your browser. Below, you can see the full list of them.
Maps & Directions by MapsGalaxy permissions
Read and change your data on a number of websites, including:

All amazonaws.com sites;
All mapsgalaxy.com sites;
Anx.tb.ask.com;
Hp.myway.com;
Live.tb.ask.com;
Mapsgalaxy.dl.myway.com;

Replace the page you see when opening a new tab;
Read your browsing history;
Display notifications;
Manage your downloads;

Manage your apps, extensions, and themes.
The list isn't really friendly-looking, and it just feels that the MapsGalaxy by MW extension is meant to collect certain data about the user for certain purposes. Therefore, we decided to dig deeper and check the extension developer's privacy policy and terms of use documents for further information.
It turns out that extension tracks keyword queries, search results you click, pages you view and search history. It also finds out what software is installed on your computer and devices connected to it, your IP address and even more.
The data may be shared with third parties to deliver you ads, but if you do not want to be the one receiving personalized promotional material, it might be time to start thinking about MapsGalaxy removal.
Do not get confused; MapsGalaxy virus is a fake label to scare you into thinking your computer is heavily infected. The add-on isn't a potentially dangerous program, but rather an annoyance meant to customize and deliver ads.
The purpose of similar browser extensions and their distribution methods
Browser extensions like MapsGalaxy or Transit Maps Directions try to push the computer user towards certain search engines and force them to use their services. In parallel, the extension tracks user's usage information and creates sort-of potential client profile, which consists of the user's interests, demographic location, and similar data.
Similar data sets along with unique user ID can be used or passed to third-parties with an intention to deliver customized ads. Consequently, this increases chances of making sales, which benefits both creators of such extensions and third-parties.
It is not a harmful or somehow evil technique and it is widely used these days. The more important question is, do you want to keep hardly useful extensions in your browsers or not. They might slow down your computer a little bit, and cause annoyances such as pop-up notifications from various sites.
When speaking about distribution of extensions like Maps Galaxy, they are mostly delivered in a bundle of other freeware, although they can be accessed via official websites or browser stores such as Google Chrome store.
In our personal experience, the extension suggested installing yet another extension called Search Extension by Ask following Maps Galaxy installation.
In general, you should be careful when installing third-party software or extras like extensions. They often tend to promote similar add-ons, and installing too many can overload and cause browser performance issues. Therefore, it's best to uninstall MapsGalaxy and related add-ons.
Ways to remove MapsGalaxy
MapsGalaxy removal is an easy process since the program isn't malicious and doesn't root into the system deeply. You can uninstall it from your browser easily. Just like any other potentially unwanted program (PUP), you can remove it with the help of an anti-spyware or anti-malware program, or even your antivirus.
In case you want to delete the unwanted extension manually, carry out the below-explained steps to enjoy a browser-hijacker-free browsing experience without unwanted redirections.
MapsGalaxy Removal Tutorial
To remove the unwanted program from your computer, use these instructions below to uninstall associated programs or apps from your Windows or Mac computer. Then scroll down for instructions how to clean each affected web browser individually.
Remove MapsGalaxy from Windows
Windows 10/8.1/8 users
Click on the Windows logo to open Windows menu. In search, type control panel and select the matching result. Then go to Programs and Features.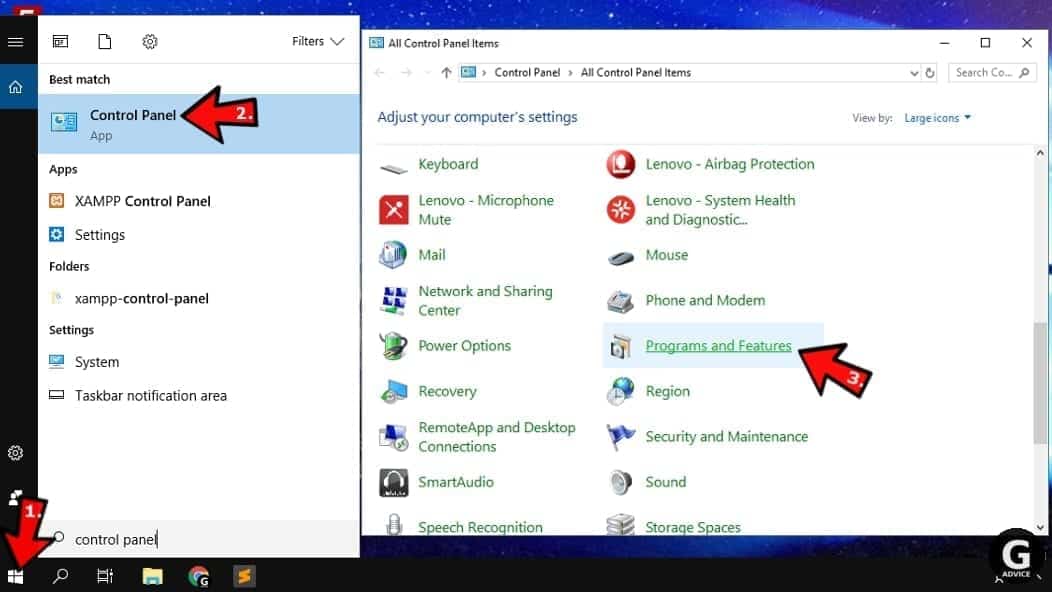 Windows 7 users
First, open Windows menu by clicking on the icon in the lower left corner of the screen. Then go to Control Panel and find section called Programs. Click on the Uninstall a program option under it.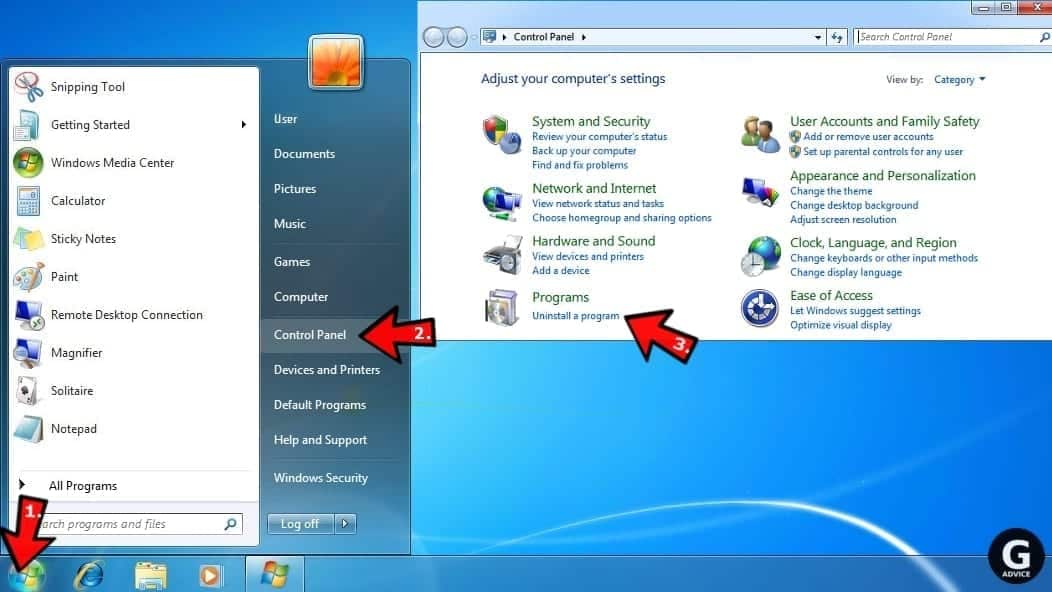 Windows XP users
In Windows XP, click Start > Control Panel > Add or Remove Programs.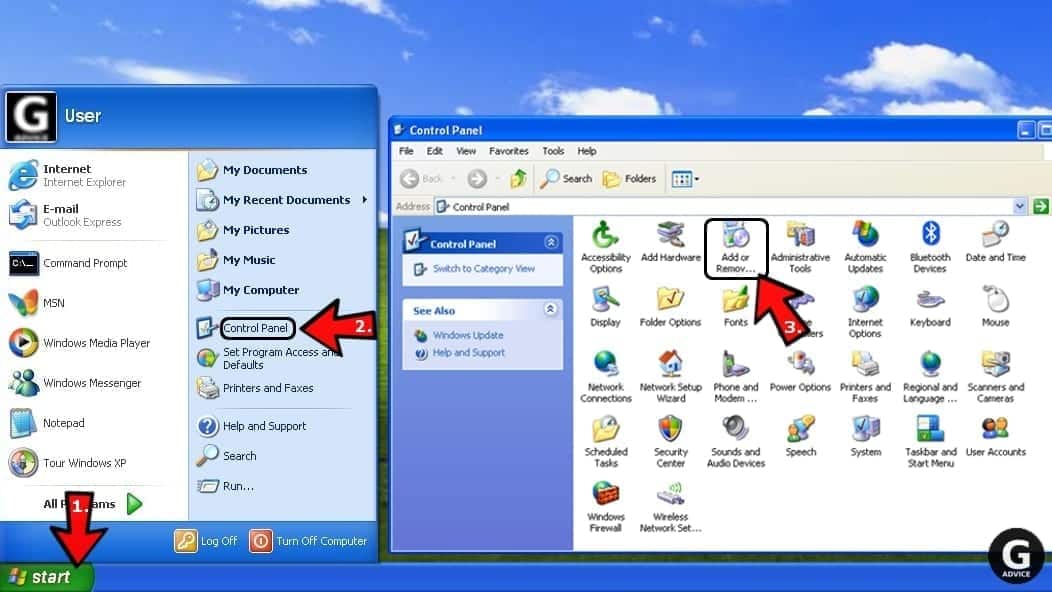 Uninstall unwanted programs
Once in Programs and Features, look through the list of installed programs. You can click on Installed on tab to sort the programs by their installation date.
Right-click on suspicious programs you can't remember installing and choose Uninstall. Follow instructions provided by the Uninstall Wizard, click Next and finally Finish to uninstall the unwanted program from your PC.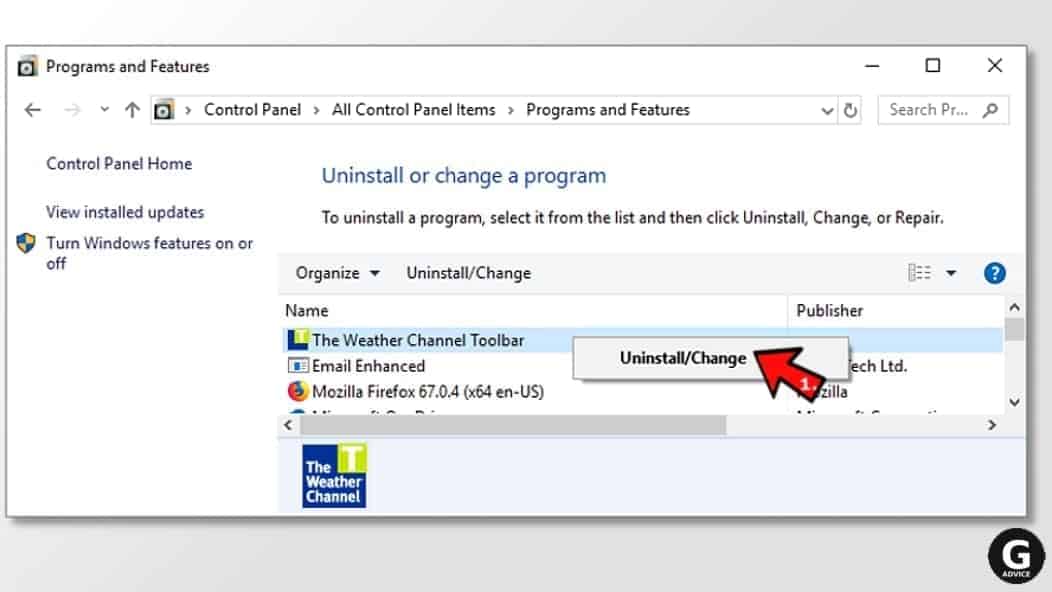 Remove MapsGalaxy from Mac
Click on Finder.
Go to Applications folder.
Look for suspicious applications you can't remember installing. Right-click them and select Move to Trash.

After moving all suspicious apps to Trash, right-click the Trash bin in Mac's Dock and select Empty Trash.
Remove MapsGalaxy from Google Chrome
Remove suspicious Chrome extensions
Open Chrome and type chrome://extensions into address bar and press Enter.
Here, look for suspicious extensions, and Remove them.
Don't forget to confirm by pressing Remove in the confirmation pop-up.

Change Start Page settings
In Chrome address bar, type chrome://settings and press Enter.
Scroll down to the On startup section. Check for suspicious extensions controlling these settings, and Disable them.
Additionally, you can set browser to Open a specific page or set of pages via these settings. Simply choose this option, click Add a new page, enter your preferred URL (f.e. www.google.com) and press Add.
Change default search settings
In Chrome URL bar, type chrome://settings/searchEngines and press Enter. Make sure you type searchEngines, not searchengines. Additionally, you can go to chrome://settings and find Manage search engines option.
First, look at the list of search engines and find the one you want to set as default. Click the three dots next to it and select Make Default.
Finally, look through the list and eliminate suspicious entries. Right-click the three dots and select Remove from the list.
Reset Google Chrome browser
The final option is to reset Google Chrome. Type chrome://settings in the URL bar, press Enter  and then scroll down until you see Advanced option. Click it and scroll to the bottom of the settings.
Click Restore settings to their original defaults.
Click Restore settings to confirm.

Remove MapsGalaxy from Mozilla Firefox
Remove unwanted add-ons from Firefox
Open Firefox and type about:addons in the URL bar. Press Enter.
Now, click on Extensions (in the left section).
Click Remove next to every suspicious browser add-on that you can't remember installing.

Change Firefox Homepage
In Firefox address bar, type about:preferences and hit Enter.
Look at the left and click the Home tab.
Here, delete the suspicious URL and type or paste in the URL of a website you'd like to set as your homepage.

Alter preferences in Firefox
Type about:config in Firefox address bar and hit Enter.
Click I accept the risk! to continue.
Here, type in the URL which has taken over your browser without your knowledge. Right-click each value that includes it and choose Reset.

Reset Mozilla Firefox
In Firefox, type about:support in the address bar and press Enter.
Click on Refresh Firefox...
Click Refresh Firefox again to confirm.

Remove MapsGalaxy from Microsoft Edge
Remove suspicious extensions:
Open MS Edge browser and click on the three dots button in the top right corner, then click on Extensions.

Look through the list of installed extensions and find the ones you can't remember installing or simply suspicious-looking ones. Right-click on them and choose Uninstall. Then confirm by pressing Uninstall again.

Change MS Edge Start Page and default search engine:
Click on the three dots again and go to Settings. First, make sure that you choose to Open Microsoft Edge with A specific page or pages option. Then click the X next to suspicious URLs and type in the one you want to set as your homepage. Click the Save icon to confirm.

Click on the three dots > Settings. Scroll down and click on Show Advanced Settings. Then scroll down until you find Change search engine button. Click it. Here, select the search engine you prefer using and click Set as default.
Additionally, we recommend selecting and Removing suspicious search engines.

Clear browsing data:
Click on the three dots in the top right corner again and click on Settings. Find Clear browsing data section and click Choose what to clear button.
In the next window, select all options and click Clear.

Remove MapsGalaxy from Safari
Uninstall suspicious Safari extensions
Open Safari and click on Safari button in the top left corner. Select Preferences in the menu that appears on the screen.

Now, go to Extensions tab. Look at the left to see all installed extensions, click on suspicious ones and hit that Uninstall button as shown in the picture. Confirm your choice by clicking Uninstall again. Repeat until you get rid of all unwanted extensions.
Change Safari Homepage and default search engine
In Preferences, open the General tab. Here, check what URL is set as your homepage. Delete it and type in whatever URL you want to set as your Safari Start Page.
Next, go to the Search tab. Here, choose what Search engine you want to set as default.
Next, click on Manage websites... then Remove all... and then Done.

Reset Safari
Click on Safari > Clear History...
Then choose to clear All history and hit Clear History button to confirm.
Go to Safari > Preferences and then open Privacy tab. 
Click Manage Website Data... then Remove All. To finish, click Done.
Finally, clear Safari cache. In Safari Menu, click Develop > Clear Cache.

Remove MapsGalaxy from Internet Explorer
TIP: If you are still using IE, we strongly advise using Microsoft Edge or a different browser because Microsoft is no longer providing technical or security support for IE browser.
Remove suspicious extensions from IE
Now, go back to Toolbars and Extensions.
Below Show:, select All add-ons.
Right-click suspicious extensions and choose Disable, or, if available - Remove. 
If any pop-up appears, confirm your choice.
Tip: If you can't find any suspicious extensions, most likely you have uninstalled them via Programs and Features already. This mostly applies to IE browser.
Change default search provider and remove suspicious ones
Open Internet Explorer and click on the gear icon in the top right of the window.
Then select Manage Add-ons. 
Here, click on Search Providers tab.
Here, we recommend setting Bing, Google or another trusted and well-known search provider as default. To do it, right-click the provider and choose Set as default.
Now you can right-click suspicious search providers and choose Remove.


Change IE Home Page

In Internet Explorer, click the gear icon in the top left corner.
Choose Internet Options.
Change Home Page URL to whatever page you want to use as your homepage.
Click Apply.
Click OK.
Reset Internet Explorer
Click the gear icon in IE menu > Internet Options. Now click on Advanced tab.
Under Reset Internet Explorer settings, click Reset...
Click on the checkbox next to Delete personal settings.
Click Reset.
To finish, click Close.
Norbert Webb is the head of Geek's Advice team. He is the chief editor of the website who controls the quality of content published. The man also loves reading cybersecurity news, testing new software and sharing his insights on them. Norbert says that following his passion for information technology was one of the best decisions he has ever made. "I don't feel like working while I'm doing something I love." However, the geek has other interests, such as snowboarding and traveling.