The meaning of Your PC Ran Into a Problem and Needs to Restart Error
Your PC ran into a problem and needs to restart is a common Windows error that makes the computer to go into the blue screen of death. It merely informs the user that due to some issues the computer is no longer capable of working correctly. Typical reasons that trigger this message on screen are changes in registry or computer hardware, faulty driver installation or improper PC shutdown.
Fixing the unexpected computer shutdown problem can be tricky, especially if the computer enters a restart loop without allowing you to do anything. In most cases, the PC shuts down quickly after the start of the system and displays the following message:
Your PC ran into a problem and needs to restart. We're just collecting some error info, and then you can reboot.
In some cases, the blue screen contains the error code, and in some cases, it doesn't. Typical error codes are INACCESSIBLE_BOOT_DEVICE, KERNEL_SECURITY_CHECK_FAILURE, BAD_SYSTEM_CONFIG_INFO, SYSTEM THREAD EXCEPTION NOT HANDLED, MEMORY MANAGEMENT, WHEA_UNCORRECTABLE_ERROR, and others.
Each of these specifies the problem and can help to solve it faster. However, this tutorial is meant to help in every case, with the error code or without it. Here are the primary methods how you can solve Your PC ran into a problem and needs to restart stuck or frozen issue on Windows.
Fix Your PC ran into a problem and needs to restart Easily
To be at the safe side, please run your computer in Safe Mode first. You can find an extensive list of options on how to do it in this guide we prepared earlier – How to Run Windows in Safe Mode.
The easiest method is to press Windows key+R, type msconfig and press Enter. Then go to the Boot tab and select Safe Boot + Network. Now, hit Apply and Ok. Restart your computer.
Method 1. Prevent PC from restarting automatically
First of all, to prevent the computer from automatically restarting, you need to take its permission to do so. To do it, you must disable the auto PC restart option. Here is a guide on how to do it:
Launch Run prompt by pressing Windows+R keys at the same time. Type sysdm.cpl and hit Enter.
This opens System Properties window. Navigate to the Advanced tab and then open the Startup & Recovery Settings.
Here, uncheck the option under System Failure that says "Automatically restart." Click OK.


Disabling Auto Restart Function prevents computer from restarting automatically.
Method 2. Run a system file checker or DISM scan
Use Windows search to find Command Prompt. Right-click on it and choose Run as Administrator. If asked, enter the password.
In the CMD window type sfc /scannow. Be patient until the process is finished.
Check if the problem persists.
In case you couldn't run SFC scan, give DISM scan a go:
Start the command prompt as administrator (as described earlier) and enter the following command: DISM /Online /Cleanup-Image /RestoreHealth.
This scan may take up to 20 minutes. After this scan, run SFC scan again.
Check if the problem was solved.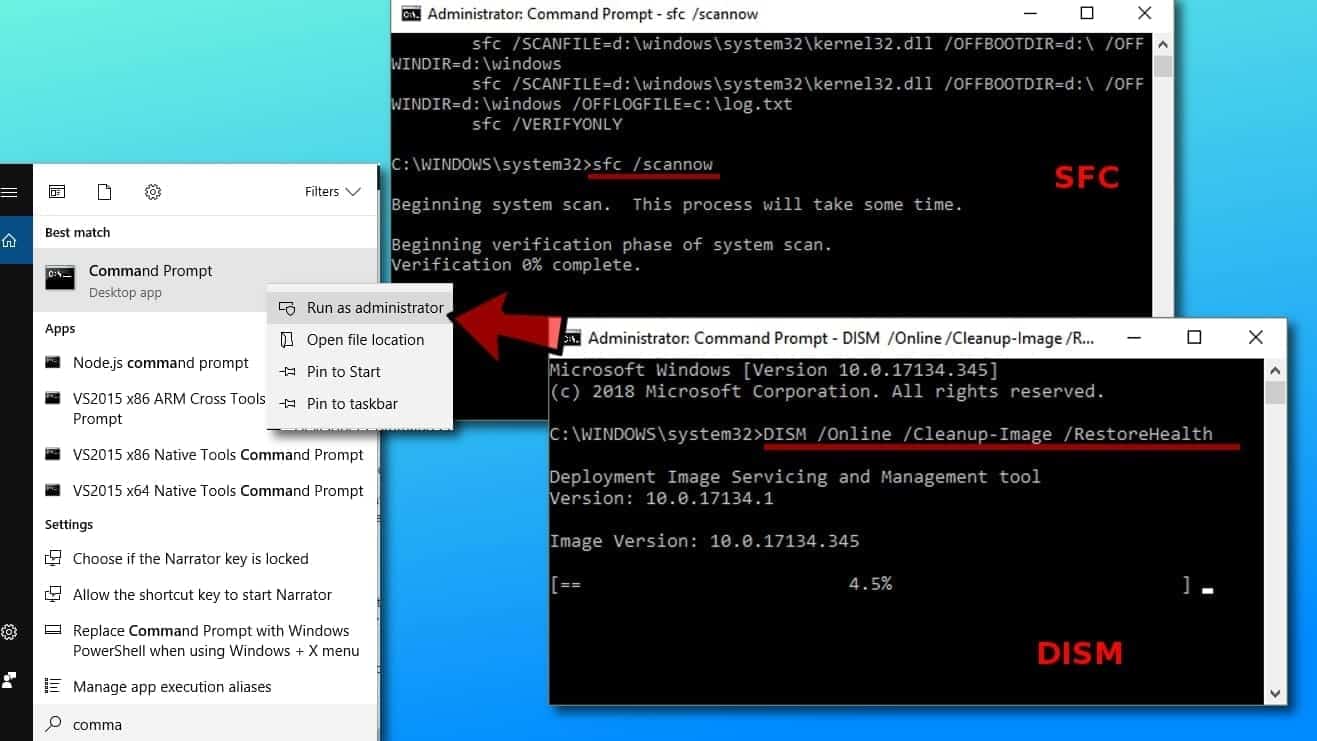 Method 3. Update drivers
As mentioned earlier, the auto-restart along with error message Your PC ran into a problem and needs to restart may have occurred due to faulty drivers. At this point, we'd like to advise you to stay away from driver update software because these programs are often hardly reliable or come in a bundle with potentially unwanted programs (PUPs).
To update drivers manually, you need to open device manager. First, launch Run window by pressing down R+Windows key. Then type in devmgmt.msc and press Enter.
Now, expand the category you want to see and then right-click on the device to choose Update Driver. Select Search automatically for updated driver software.
If found, update the driver using the newer version.
Repeat steps with all devices.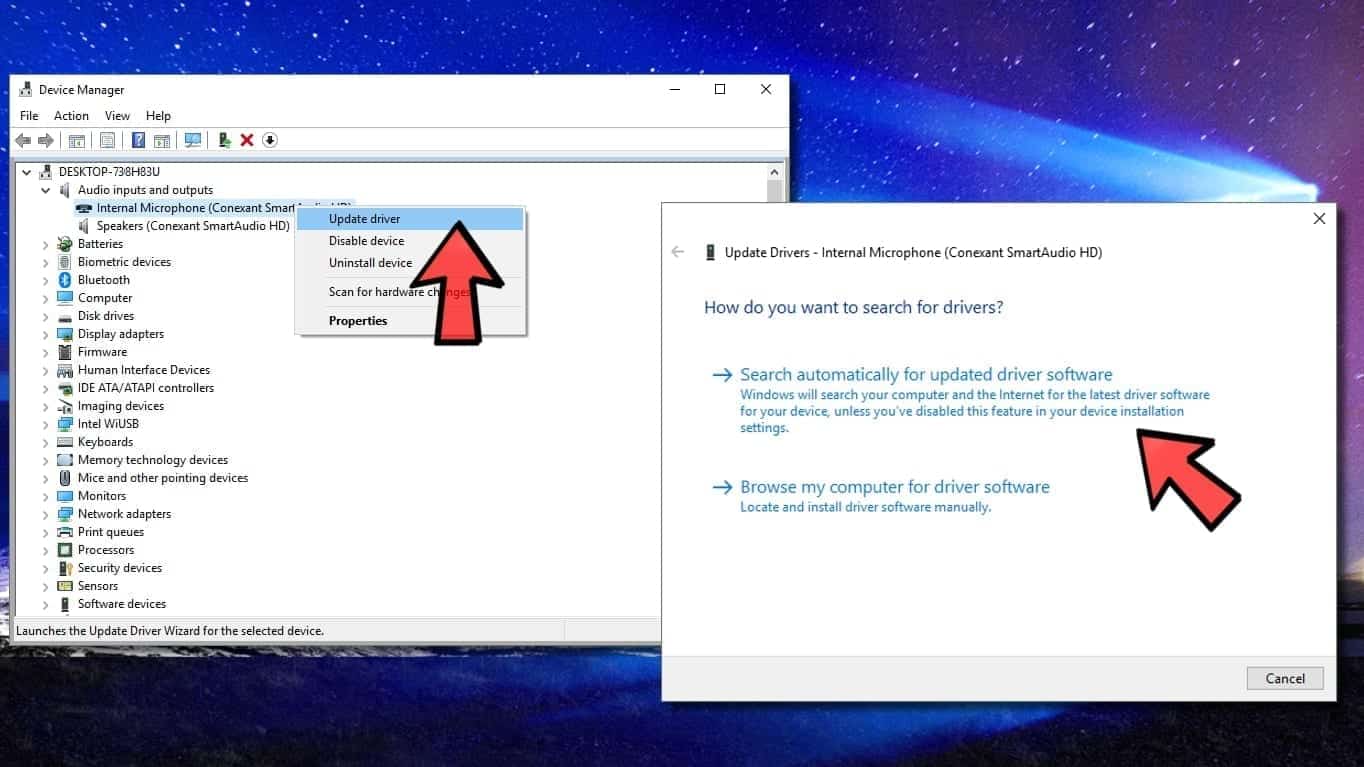 Method 4. Unplug external hardware
Try to remember what external devices you have recently connected to your computer. These might be causing the issue. Unplug and start your computer to see if the Your PC ran into a problem and needs to restart error persists. If you notice that a device is causing your computer malfunction, it means it is faulty. Do not connect it to your computer again.
Method 3. Uninstall recently installed applications
If you have recently installed some new programs on your computer, it is time to check which one is causing the issue. Check the dates of software installation and figure out when did the computer start to reboot automatically. You can find the list of recently installed apps by searching for Apps & Features in Windows search. Then simply sort apps by Install date, select and Uninstall them.
Method 5. Update Windows
In some cases, updating Windows helps to solve many problems. Please check if there are any updates available and install them to resolve Your PC ran into a problem and needs to restart issue.
Update Windows 10:
Go to Windows Settings > Update & Security. Here, check for Windows updates.
If available, download and install them. Restart your computer afterward.
Check if "Your PC ran into a problem and needs to restart error" persists. If it does, try the next method.
Update Windows Vista, 7, 8, 8.1:
In the search box, type Control Panel. In Small Icons view, click Windows Update. If using Category view mode, go to System and Security > Windows Update.
Here, install available updates.
Method 6. Check if the computer's temperature is normal
One of the reasons causing computer shutdown issues is computer overheating. Therefore, you may want to check if it isn't the cause of "Your PC ran into a problem and needs to restart" computer restart cycle.
The easiest method to check this is to shut down your computer and keep it that way for a while, say, one hour. This allows the machine to cool down. Then turn it on and see if you run into the same problem shortly. If not, you should consider solving the overheating issue for all.
There are many reasons for computer overheating, such as poor computer location (for example, badly ventilated spot or room), coverage of vents that allow air to pass in and out of the casing, dust build-up, air-cooling system malfunction, etc. It is important to know that heat can damage essential computer hardware components, such as the motherboard or video card. Therefore, we suggest checking for methods how to solve this problem as well.
Method 7. System Restore option
If you are not familiar with System Restore option, all we can say is that it works as a time machine that rewinds and sets your PC to be like it was at some time in the past. This way, it can go back before changes that now trigger "Your PC ran into a problem and needs to restart" message.
Press Windows key+R and type sysdm.cpl, press OK. Now go to System Protection tab.
Press System Restore…
Click Next button. If possible, click Show more restore points. You should now see all restore points that you created earlier. Choose one and click Next.
Follow the instructions given on your screen to complete the system restore.
If you have found a method to resolve Your PC Ran into a Problem and Needs to Restart, please share it with us in the comment section.
Norbert Webb is the head of Geek's Advice team. He is the chief editor of the website who controls the quality of content published. The man also loves reading cybersecurity news, testing new software and sharing his insights on them. Norbert says that following his passion for information technology was one of the best decisions he has ever made. "I don't feel like working while I'm doing something I love." However, the geek has other interests, such as snowboarding and traveling.