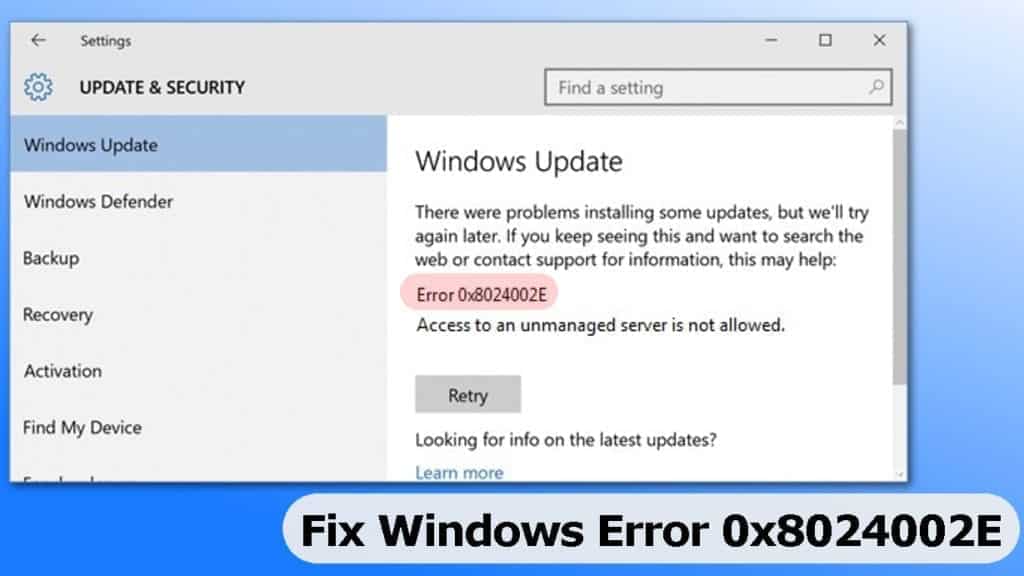 Windows Update Error 0x8024002E prevents installation of essential updates
Windows Update Error 0x8024002E prevents downloading and installing an update for the operating system. The issue mostly occurs on Windows 7, 8 and 10 operating systems. In some cases, a simple computer restart can solve the issue immediately. However, some users might need to meddle with Windows Registry or use some troubleshooters to make that problem go away.
Windows updates are essential since they can improve user experience, patch system vulnerabilities and fix various bugs in the system. However, sometimes these updates are pushed automatically and it mostly happens in the most inconvenient moment. Therefore, the 0x8024002E error message and news about a failure can seriously annoy the computer user.
The message normally informs that there were some problems when installing the update and that the system will try to install it later. The error pop-up can include such statements:
WU_E_WU_DISABLED 0x8024002E
Access to an unmanaged server is not allowed.
This pop-up means that access to Microsoft Updates' server wasn't granted due to an unexpected error. Errors, bugs, and other unpleasant surprises are part of Windows updates, and none of us enjoy the experience of fixing them, however, if you follow these steps below, you should fix Windows Update Error 0x8024002E quickly enough and start using your PC normally again.
Fix Windows Update Error 0x8024002E Manually
1 Method. Run Windows Update Troubleshooter
Windows Update Error 0x8024002E can be fixed in minutes with the help of an automatic Windows problem solver – troubleshooter for Windows Updates. Once run, it will attempt to identify issues that prevent updates from establishing themselves on the computer system safely.
Press down Windows key + R, type

control panel

in Run prompt, and press Enter. Alternatively, you can find it via Windows search.
Make sure that View by is set to Large icons.
Scroll down to find Troubleshooting section. Click on it.

Under System and Security, click Fix problems with Windows Update.
Click Next to start. Once finished, follow the advice for available fixes displayed on the screen.

If completing this method won't help you to resolve Windows Update Error 0x8024002E, try the next technique.
Method 2. Force Windows update access via Windows Registry
Windows Registry is known as the computer's brains, which contains settings for the operating system and hardware. Therefore, by making simple configurations there, you can trick the computer into thinking that Windows update can be installed. Most importantly, this technique helps in cases where malware is blocking access for the updates. It also helps if you're dealing with feature update to windows 10, version 1709 – error 0x8024002e problem.
Launch Windows registry by pressing Windows key + R and typing

regedit

into the Run prompt. Press Enter. If a pop-up asking whether you want to open Registry appears, click Yes.
Now, look at the left panel and expand folders in the following order:
HKEY_LOCAL_MACHINE\Software\Policies\Microsoft\Windows\WindowsUpdate
Here, you should find a key named DisableWindowsUpdateAccess. Right-click it and choose Edit.
In the Value field, delete

1

and type

0

instead of it. Save your changes and close the Registry.

Restart Windows Update service. To do this, follow these steps:

Search for Command prompt in Windows search, right-click it and choose Run as Administrator. Click Yes to confirm.
In CMD, type net stop wuauserv and press Enter. This command ends the service, but it restarts automatically.

Restart the computer.
Try downloading and installing the updates again.
Method 3. Use DISM and SFC to repair Windows and corrupted system files
If you have already dealt with some computer issues, you probably know that this is a safe way to identify and fix some corrupted Windows system files with their clean cached versions. Therefore, carefully follow these steps for DISM 0x8024002E Error fix.
Windows 10/8.1/8 users should first run DISM.EXE before the System File Checker tool. Windows 7 (or earlier) users should skip to step 3.
Start by opening Command prompt with Admin's privileges. Simply search

cmd

in Windows search, right-click on Command Prompt result and choose Run as Administrator. Click Yes in the User Account Control window.
In Command Prompt, type the following command and hit Enter:


DISM.exe /Online /Cleanup-image /Restorehealth


In case your Windows update client is corrupted, you'll need to specify a repair source:
DISM.exe /Online /Cleanup-Image /RestoreHealth /Source:

C:\RepairSource\Windows

/LimitAccess
Please replace C:\RepairSource\Windows with the location of repair source, such as running Windows installation or removable disk, such as Windows DVD. You can also use the Windows folder from a network share.
Now, type

sfc /scannow

in the Command Prompt and press Enter.
Try updating Windows again.
Method 4. Perform a clean boot and install updates
This is a bit complicated, yet an often successful method to fix Windows update 0x8024002E wsus. You'll have to run your computer in clean boot mode (which is NOT the same as Safe Mode) and then try installing the updates. Then you'll have to complete steps to start the computer into normal mode again.
Open Run prompt by pressing Windows key + R at the same time. Type

msconfig

and hit OK. This launches System Configuration window.
In the General tab, choose Selective startup and deselect Load startup items.
Now navigate to Services tab. Here, put a tick on Hide all Microsoft services checkbox. Then click Disable all.

Go to the Startup tab. Here, click Open Task Manager.
Here, right-click each process with ENABLED Status and Disable it. Repeat until all of them are disabled.

Once finished, go back to System Configuration window, click Apply and OK, then click Restart.

Once restarted, try installing the update.
After fixing the issue with an update, you'll need to run your computer in normal mode again. Repeat step #1, then in General tab choose Normal startup.
In the Services tab, remove the tick from Hide all Microsoft services, and click Enable all.
Go to the Startup tab, Open Task Manager, then enable all programs you disabled previously.
Finally, in the System Configuration window, click Apply and OK. Restart your computer.
In case you know the update you're looking for, you can download it via Microsoft's Updates page and bypass the system issues preventing you from downloading it. However, you need to know the exact name of the update.
We have noticed that some users even report association of CompatTelRunner.exe with error 0x8024002E. In such case, we suggest reading more about Microsoft Compatibility Telemetry issues and ways to fix them.
Norbert Webb is the head of Geek's Advice team. He is the chief editor of the website who controls the quality of content published. The man also loves reading cybersecurity news, testing new software and sharing his insights on them. Norbert says that following his passion for information technology was one of the best decisions he has ever made. "I don't feel like working while I'm doing something I love." However, the geek has other interests, such as snowboarding and traveling.