VCRUNTIME140.DLL is missing can be fixed easily
VCRUNTIME140.DLL is missing from your computer is an error message that informs about a missing or corrupted Microsoft Visual C++ Redistributable file. This file is essential when starting programs like WAMP, Skype, or any others. The system error pop-up usually suggests reinstalling the program to fix the issue, however, that doesn't always help. In this article, we'll cover all possible solutions to the problem.
VCRUNTIME140.DLL is part of Microsoft Visual C++ 2015 Redistributable. If its missing or corrupted, you might run into one of the listed pop-ups. Each of them addresses the same issue.
The program can't start because vcruntime140.dll is missing from your computer. Try reinstalling the program to fix this problem.
vcruntime140.dll is either not designed to run on Windows, or it contains an error. Try installing the program again using the original installation media or contact your system administrator or the software vendor for support
Error loading vcruntime140.dll. The specified module could not be found.
The code execution cannot proceed because vcruntime140.dll was not found. Reinstalling the program may fix this problem.
There was a problem starting vcruntime140.dll. The specified module could not be found.
According to user complaints on online forums, the issue most frequently occurs when attempting to launch popular programs like WAMP, Photoshop.exe, Skype.exe, Piriform.exe, HTTPD.exe, or PHP.exe.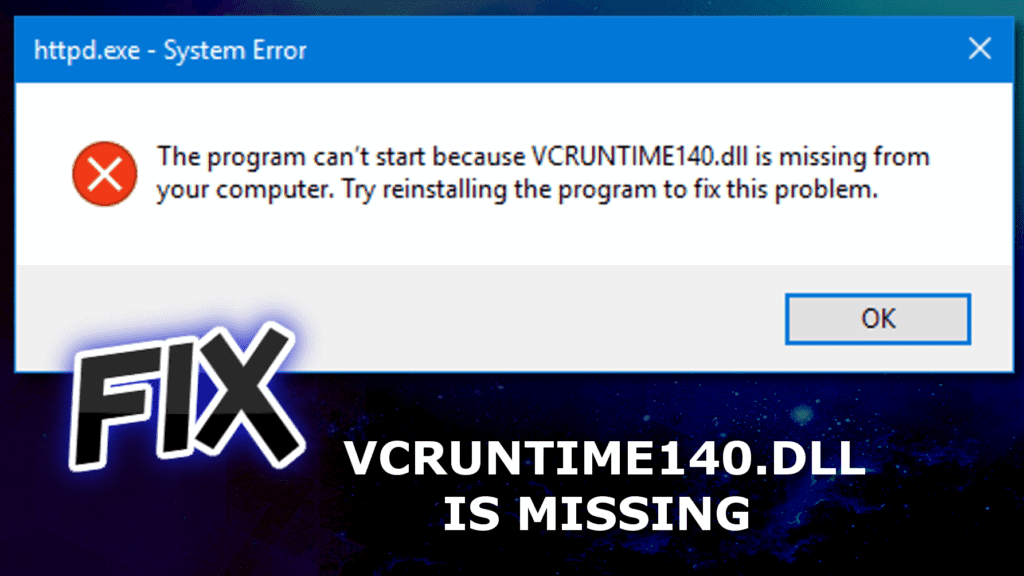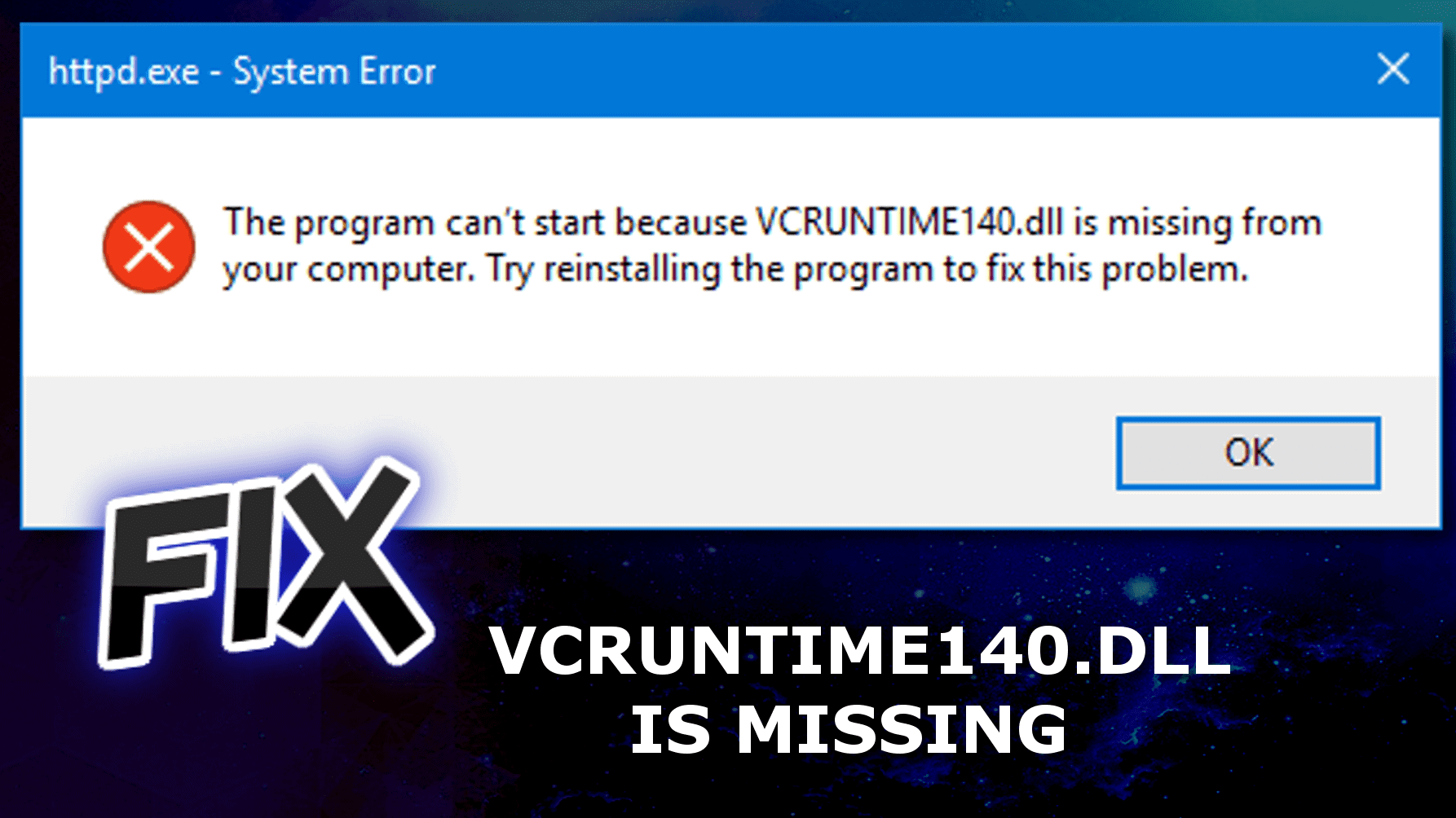 Typically, the error pushes the users to start searching for VCRUNTIME140.DLL download link online. However, if you do so, you must be careful, because you can run into insecure websites and unexpectedly land a virus on your computer. Therefore, we'll explain what you actually need to do to make that error message disappear shortly.
Bear in mind that some online tutorials will recommend you to download third-party software to fix the issue, however, you must know that is absolutely not neccessary in this case.
We'll explain how you can fix VCRUNTIME140.DLL is missing error on Windows 7, 8 or 10 yourself. You might want to check the common causes of this error.
Typical causes of VCRUNTIME140.DLL is missing error
Installation of Windows update. Windows updates are known to cause many problems to PC users. You might need to rollback Windows update and try updating again.
Faulty installation of a specific software. In such scenario, uninstalling and reinstalling the program might help.
Problems with one of many Microsoft Visual C++ Redistributable packages (most common issue). The file might be missing or corrupted, therefore the file either needs to be replaced or the whole package needs to be reinstalled.
If these phrases don't sound familiar to you, do not worry – we'll explain what they mean and how to fix VCRUNTIME140.DLL is missing on Windows 7, 8, 10 down below.
How to Fix VCRUNTIME140.DLL is Missing
Method 1. Repair Microsoft Visual C++ 2015 Redistributable (Most Common Fix)
Before you try any other method, first try to repair Microsoft Visual C++ 2015 Redistributable to fix VCRUNTIME140.DLL on Windows 7 or 10. Follow the steps given below.
Press Windows key + R to launch Run window and type control panel here. Press Enter.
In Control Panel, navigate to Programs &Features.
Here, find Microsoft Visual C++ 2015 Redistributable and right-click on it, then choose Change.
In the next pop-up, choose Repair.
When UAC pop-up appears, agree by clicking Yes.
Wait patiently until you get Setup Successful message. Click Close to finish.
Try launching the software that caused the issue again to see if the error is gone.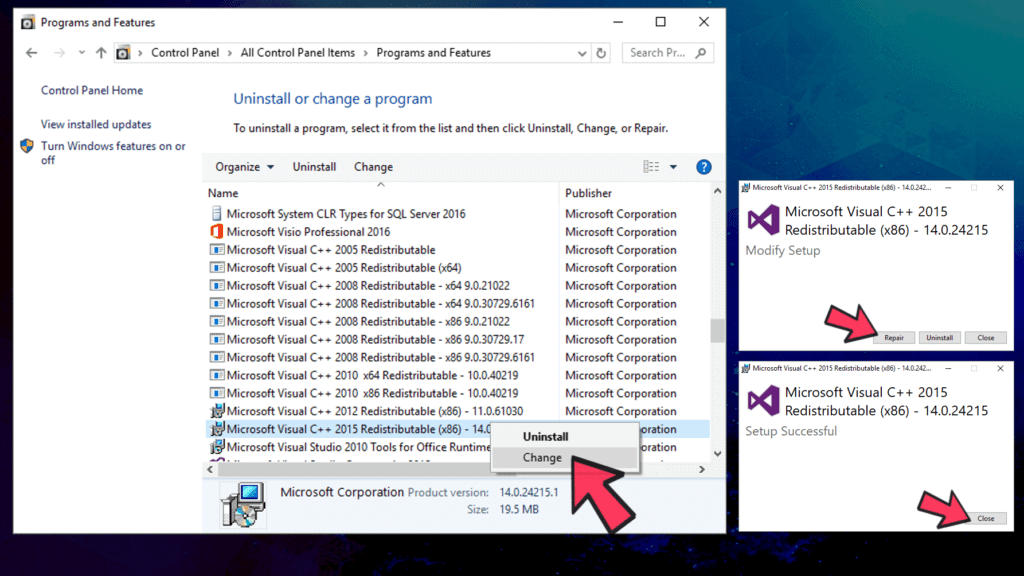 Method 2. Reinstall Microsoft Visual C++ 2015 Redistributable
If repairing the software didn't solve the VCRUNTIME140.DLL was not found Windows 10 issue, consider reinstalling Microsoft Visual C++ 2015 from scratch. After that, you need to choose the file you need according to your operating system version. For 32-bit Windows, choose the x86 download. For the 64-bit version, pick the x64 one.
How to find out whether you're using 32-bit or 64-bit version of Windows:
In Windows search, type System Information and open the matching result.
Look at the value of System Type.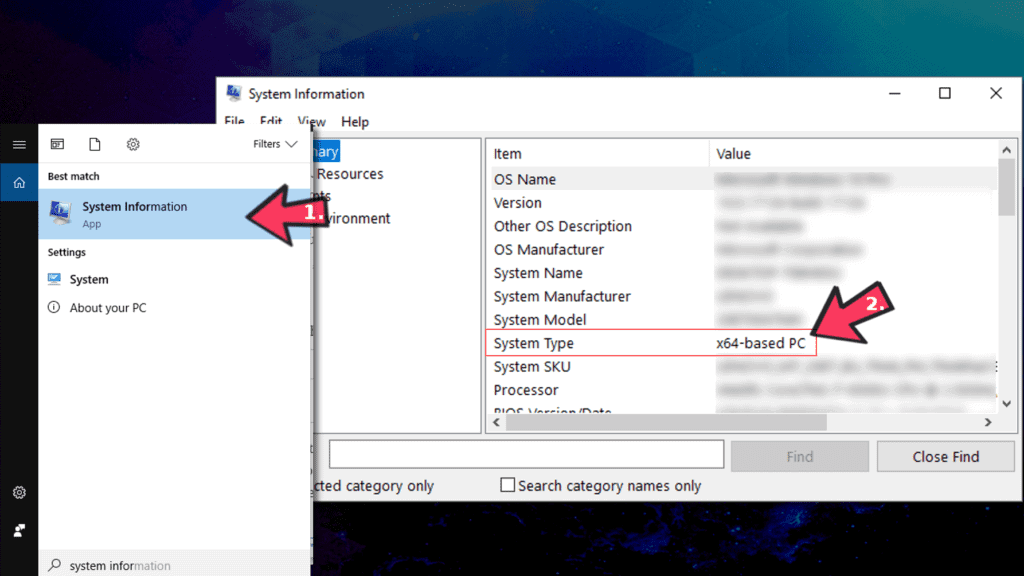 It is extremely important that you download Vcruntime140.dll and the missing files from a safe source, so make sure you get the get it from Microsoft's official website (link is provided below).
Download Microsoft Visual C++ Redistributable 2015 from Microsoft. Choose the version according to instructions provided earlier.
Once you choose the required version, click Next.
You should see your download in the browser bar, so click on it.
Click Run in a Open File – Security Warning pop-up. It just informs that you're about to open a file downloaded from the Internet.
Put a tick that you agree to License terms and conditions and then click the Install button in the next window as shown below.

In UAC window, click Yes. Wait until the process is over and check if the VCRUNTIME140.DLL is missing message still appears when launching particular software.
Method 3. Try unregistering and registering VCRUNTIME140.DLL file again
This easy and automated method can help to solve the issue in seconds. Follow these steps:
Launch Command prompt as administrator first. Type cmd in Windows search, then right-click on the corresponding result and choose Run as Administrator.
In UAC, press Yes.
Unregister the file by typing the following line (put a space before and after /u) and press Enter.
regsvr32 /u VCRUNTIME140.dll
Now, re-register file by entering the following command:
regsvr32 VCRUNTIME140.dll



Check if the issue is resolved now.
Method 4. Run System File Checker
System File Checker can repair missing or corrupted system files, and therefore solve VCRUNTIME140.dll is missing problem. It is a quick and easy method.
Open Windows search and type CMD. Right-click the Command Prompt result and choose Run as Administrator. In UAC, choose Yes.

In CMD, type sfc /scannow and press Enter to start the procedure.

Wait patiently until the system scan is finished and check if the problem persists.
Method 4. Reinstall the software which triggers VCRUNTIME140.dll is missing error
If any other suggested method failed to help, consider reinstalling the software that fails to open and displays the VCRUNTIME140.dll is missing pop-up. To reinstall the program, follow these steps:
Firstly, use Windows search to find

Apps & Features

. Problems with search? Try this Windows search not working guide.
Secondly, find the program associated with the error (you can use search) and select it. Click Uninstall. Then click Uninstall again. Wait until the process is finished.

Thirdly, go to the official website of the particular software and download it again. After doing so, click on the downloaded Setup file and follow the instructions to install the software on your computer again. Once installed, restart the computer and see if the "VCRUNTIME140.DLL was not found" error still occurs.
Method 5. Troubleshoot problems with Windows Store Apps
In case you run into VCRUNTIME140.dll is missing error when launching an app downloaded via Windows Store, try this method.
Firstly, use Windows search to find and access Troubleshoot panel in Windows.
Secondly, scroll down through all the troubleshooters and find the one for Windows Store Apps. Click on it and select Run the troubleshooter. Wait until it detects problems and consider applying fixes that it suggests.

Method 6. Download VCRUNTIME140.DLL file directly
Some sources recommend to download VCRUNTIME140.DLL file separately and place it into game installation folders, however, we strongly advise you to use methods described earlier as they aren't temporary workarounds and fix the issue for good. Besides, downloading files from unknown sources can be dangerous!
If you actually decide to try this method, we suggest dll-files.com website, which is marked clean by Virus Total report.
Go to DLL-Files website to download VCRUNTIME140.DLL file.
Choose version suitable for your operating system (32-bit or 64-bit), and download it. Keep in mind that on 64-bit systems many programs might still be 32-bit version. It is important to choose the right version of the .dll file, otherwise you might run into 0xc000007b error. Quick guide:

On 64-bit Windows, programs installed on C:\Program Files (x86) are mostly 32-bit;
Those installed on C:\Program Files are most likely 64-bit.

The file will download in a ZIP format. Open its location, then right-click the file and choose Extract Files… and choose preferred location.
Open the folder with extracted DLL file and the program's that's giving you the error installation folder side by side.
Select and drag the .dll file to the installation folder of the program. If asked, choose to replace file in the destination folder.
Check if the issue persists.
If you have found another method to fix the issue, we'd me more than happy if you shared it with us in the comments section below.
This post was originally published on June 12, 2019, and updated on September 24, 2019.
Norbert Webb is the head of Geek's Advice team. He is the chief editor of the website who controls the quality of content published. The man also loves reading cybersecurity news, testing new software and sharing his insights on them. Norbert says that following his passion for information technology was one of the best decisions he has ever made. "I don't feel like working while I'm doing something I love." However, the geek has other interests, such as snowboarding and traveling.