NET::ERR_CERT_DATE_INVALID on Chrome warns about site's expired SSL certificate
NET::ERR_CERT_DATE_INVALID error is a warning message from Chrome browser which informs about expired website's SSL certificate. The error comes with "Your connection is not private" message, suggesting that proceeding to such site is not a good idea. Websites that have no or expired SSL are considered insecure. While users can bypass this warning in a few clicks, we do not recommend doing so and fixing the matter properly. Whether you are a website owner or just a visitor, we have both cases covered in this easy tutorial.
You should never ignore NET::ERR_CERT_DATE_INVALID warning as it simply prevents you from possible dangers on the specified website. It can mean that any information you transmit to it can be read in open text, or there might be other dangers such as malicious downloads available.
However, the issue not always lies on the other end. Certain misconfigured settings on your computer, such as wrong time settings, can also trigger the error. We'll cover all the methods to fix NET::ERR_CERT_DATE_INVALID in the guide below.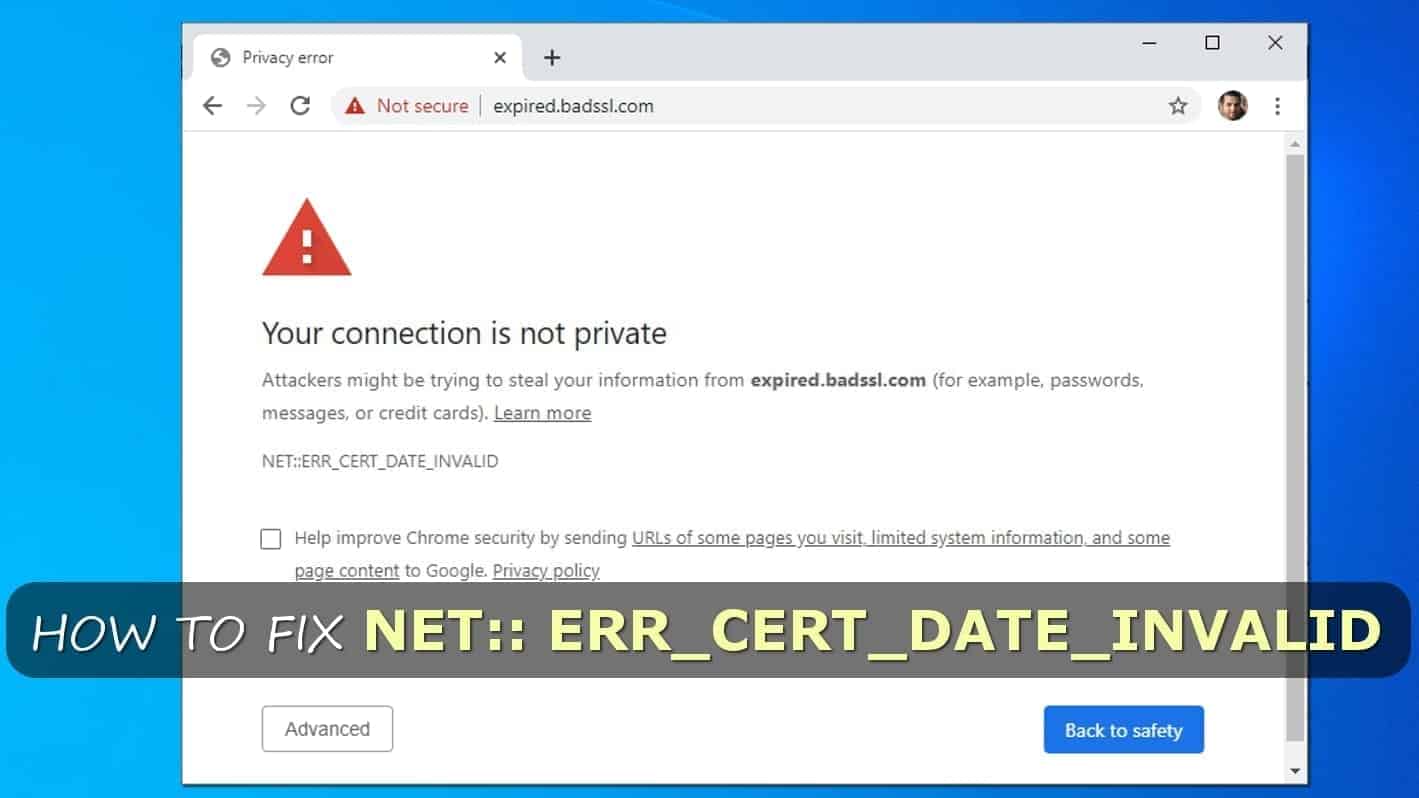 If you're a webmaster, you might go to inspect page and encounter Failed to load resource: NET::ERR_CERT_DATE_INVALID. It is critical to fix such error immediately, as it prevents visitors from accessing your website. Moreover, it might create an untrustworthy image of your business or personal website.
It has been noticed that the issue often bothers those websites using LetsEncrypt, after renewing the license. Even though the SSL certificate is not expired, the error appears. To revert your website back to secure and fix SSL issues, follow the 2020 guide provided below.
Methods not to try
Some web resources might suggest you to apply unprofessional and insecure fixes that might seem to fix the problem. However, we want to warn you that such actions can have even worse consequences.
Some examples of things you SHOULD NOT try to fix NET ERR CERT DATE INVALID are listed below:
DO NOT turn off or disable your antivirus or Windows Defender, or meddle with any security-related services. If you do so and enter a website that's insecure, your computer can get infected immediately.
DO NOT proceed to the said website, even if you think that it is safe to do so. Unless you're a skilled IT professional who's using a virtual machine or another secure environment, you shouldn't play around sites that are marked as insecure. You might end up downloading malware such as STOP/DJVU or similar.
Check if the issue lies on your end
The first step that you should take is figure out whether NET::ERR_CERT_DATE_INVALID arises from an issue on your computer, or the website itself. Therefore, we recommend clicking on the error name as shown below, and seeing the date of website's SSL certification expiration date.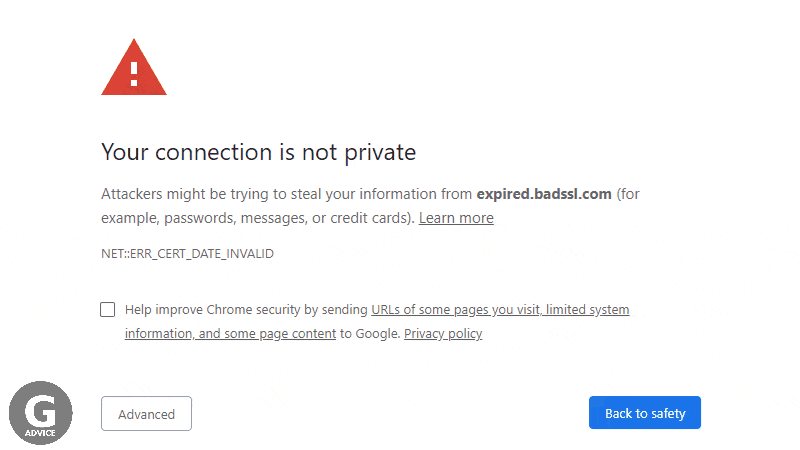 Look at the Expires on line. If the date shown is earlier than current date, the SSL certificate is expired and therefore the website is to blame for showing the error for you. Proceeding to it might be dangerous.
If the certificate expiration date hasn't come yet, it means that there might be issues with its configuration OR the problem lies on your end.
You also need to check the current date line. If it isn't correct, it means the time settings on your computer are wrong and you need to fix it.
How to Fix NET::ERR_CERT_DATE_INVALID Error? (Webmasters)
Method 1. Renew expired SSL certificate
Purchase or renew current SSL certificate. Some hosting providers offer free SSLs, so you might want to contact your hosting provider and check on that. In addition, you can get free Cloudflare SSL if you're using their DNS services.
You will need to validate your certificate either by email verification (you might receive a code) or by uploading a file to your website.
Install the SSL certificate on your website.
You can find more detailed instructions on SSL certificate providers' websites.
Fix NET::ERR_CERT_DATE_INVALID Error on Google Chrome (Visitors guide)
Method 1. Fix your computer's time settings
The most common cause of NET::ERR_CERT_DATE_INVALID Error is wrong time and date settings on a computer. Here's how you can fix it:
Windows
Right-click on Windows icon to open Settings. Here, go to Time & Language.

If the Set time automatically and set time zone automatically are turned off, turn them on.

However, if you can see that these settings are on but the issue persists, toggle these options off and then click Change under Set the date and time manually. Input correct information and click Change again.

Check if the issue persists. You should no longer see ERR CERT DATE INVALID Error in Google Chrome.
Mac
On Mac, click on Apple icon in the top left corner, and select System Preferences. Here, go to Date & Time.
You will need admin's access to edit these settings, so click on the lock icon, enter administrator name and password to proceed.

Automatically: Open Date & Time and then choose Set date and time automatically option. If required, choose network and time server for your region. Check if you can still see NET::ERR_CERT_DATE_INVALID in your browser.
Manually: First of all, deselect the automatic date and time selection option. Then click on the current day in the calendar, enter current time and click Save.

Now, go to Time Zone, and adjust the time zone accordingly:

Automatically: Click Set time zone automatically using current location.
Manually: Deselect the automatic option, then click your location on the map, then click the Closest City pop-up menu, and choose a city that is closest to your location.
The error now should be solved on your Mac.
Method 2. Test Google Chrome plugins
NET::ERR_CERT_DATE_INVALID Error on Chrome often occurs due to plugins and add-ons that can cause unwanted problems. To check if this is the case, you should first try connecting to your desired website via Incognito mode in Chrome.
Check if Google Chrome plugins are causing the issue:
While your browser is open, click Ctrl+Shft+N to open such window. Or you can click on three dots in the upper right corner and select New Incognito Window.

Enter the website's name into the address bar and press Enter.
If you can access the website without seeing the error, it means that some plugins that are active in the normal Chrome browsing mode are to blame. Here's what you need to do then.
Disable faulty Chrome plugins
You'll need to play around with installed plugins a little to detect which one is causing the issue. Here's what you need to do to fix ERR_CERT_DATE_INVALID:
Open Google Chrome and enter this line in the URL bar: chrome://extensions/, press Enter.
Here, toggle off (disable) one extension at a time. After disabling an extension, open a separate tab, and try connecting to the website that's giving you the error message. Repeat until you find the extension to blame.

Method 3. Clear Google Chrome cache
Piled-up browser's memory can be a reason why you can't connect to a website due to NET::ERR_CERT_DATE_INVALID error. Here's how to fix it by clearing the cache:
Open Chrome browser and click the three-dots in the upper-right corner. Click More tools > Clear browsing data.
Make sure you're in the Basic tab. Select Time Range: All time, then tick all three options (browsing history, cookies and other site data, and cached images and files), then click Clear Data.

Check if the issue persists.
Method 4. Change your Internet connection
Sometimes Your Connection is Not Private – NET::ERR_CERT_DATE_INVALID occurs because you're connected to insecure Wi-Fi or some other network. In such case, your browser is right. Therefore we recommend switching to another, secure connection and trying to connect to your desired domain again.
Method 5. Scan your computer with antivirus
One of the reasons why you might be encountering NET::ERR_CERT_DATE_INVALID error is malware present on your computer. Therefore, you need to detect and eliminate it as soon as possible. You can perform system scan and remove existing threats using antivirus you use, or download one now. Do not worry – there are both free and paid options to choose from. You can check some reviews here.
Method 6. Clear SSL cache
Clearing SSL cache can solve NET ERR CERT DATE INVALID error. It is a simple and easy method that you can try.
Press down Win+R keys at the same time to launch Run prompt.
In Run, type inetcpl.cpl and press Enter.
Go to Content tab.
Click Clear SSL state.

Click Apply and OK to finish.
Method 7. Reinstall Google Chrome
This is the last option you can try. To reinstall Google Chrome, do the following:
Simply go to Control Panel > Uninstall a Program, find and select Google Chrome and click Uninstall.
Follow directions on your screen. Once you're done, go to the official download page and get the latest browser version.
Click on the download to launch the installation wizard, and follow directions on your screen.
That's it! We hope that our provided methods helped you to fix NET::ERR_CERT_DATE_INVALID on Google Chrome. If you have discovered another method, please share it with us in the comments section below.
Norbert Webb is the head of Geek's Advice team. He is the chief editor of the website who controls the quality of content published. The man also loves reading cybersecurity news, testing new software and sharing his insights on them. Norbert says that following his passion for information technology was one of the best decisions he has ever made. "I don't feel like working while I'm doing something I love." However, the geek has other interests, such as snowboarding and traveling.