Microsoft Compatibility Telemetry explained: what is it
Microsoft Compatibility Telemetry (CompatTelRunner.exe) is a safe process which is part of Windows 7, 8 and 10 that runs to collect and send usage and performance data to Micrososft. Some Windows users find it causing High CPU or disk usage and then worry about its safety or debate whether its worth disabling it. In this report, we'll cover all the general misconceptions about this process.
CompatTelRunner.exe, or Compatibility Telemetry Runner, is Microsoft Compatibility Appraiser, which is part of Windows 7, 8 and 10 systems. The executive file collects and regularly sends usage and performance information to Microsoft in order to analyze user experience and improve it.
The described file also helps Microsoft to identify compatibility issues and ensure compatibility when installing the latest Windows OS version. However, Microsoft Compatibility Telemetry eats CPU by scanning computer files and check their compatibility with Windows 10 in case an update is initiated.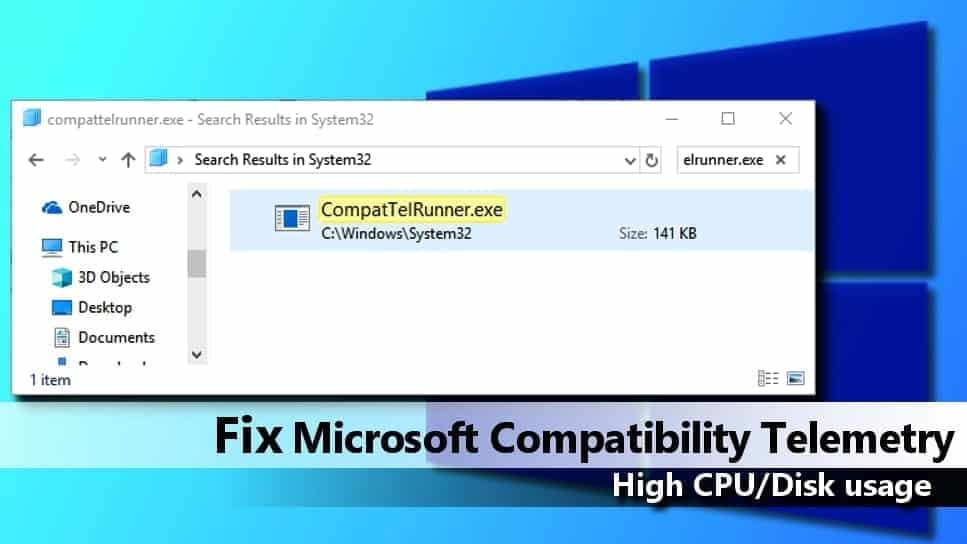 The file was first introduced to Windows 7 and 8.1 users with Windows KB2977759 update. The executable file is enabled to run by default; however, the user can stop CompatTelRunner on Windows 7, 8 or 10 anytime.
The file typically lies in C:\Windows\System32 folder and is digitally signed. Besides, the file owner is TrustedInstaller. Attempts to modify it will most likely result in "Access is denied" error because it is a "read only" file. To bypass such restriction, you will need to take ownership of the process.
Another method that doesn't involve deletion of the file is disabling Scheduled Tasks that are responsible for Telemetry Runner launch.
Reasons to turn off Windows Telemetry service
Computer users on various online forums (including Reddit) complain about CompatTelRunner.exe high disk usage Windows 10 and state that Microsoft Compatibility Telemetry Runner causes enormous performance issues, such as slowdowns and program crashes.
In addition, users are concerned about their privacy. According to Microsoft, there are four levels of Microsoft Windows diagnostic data collection – Security, Basic, Enhanced and Full. Each of them differs in size of data collected, but some users choose not to be tracked at all. We also like the sense of privacy, therefore we suggest disabling these tracking services on your device.
Since nobody wants to encounter PC slowdowns and a little bit more privacy never hurt anyone, we have prepared a guide on how to disable CompatTelRunner.exe on Windows. You can find it below. Our article on ways to speed up Windows 10 might also interest you.
Note. Keep in mind that this file is part of Windows OS and it is digitally signed. Usually, it is not advisable to remove digitally signed OS files, therefore doing so might cause system stability related issues. In other words, disabling the process is a better idea.
Besides, if you cannot remove or disable it, try to stop the process from running via Windows Task Manager first (Right-click CompatTelRunner.exe > End Task).
Disable Microsoft Compatibility Telemetry in Windows (How-To Guide)
Method 1. Disable CompatTelRunner.exe via Task Scheduler
One of the easiest ways to solve Telemetry Runner problem is to disable it without deleting it. Follow the given steps to stop CompatTelRunner.exe in Windows 7, 8 or 10.
Launch

Run

window by pressing down

Windows

key and

R

letter on your keyboard at the same time.
Type taskschd.msc and press

Enter

or

OK.

Now, expand the folders in the given order –

Task Scheduler Library

>

Microsoft

>

Windows

>

Application Experience

. Find a task called

Microsoft Compatibility Appraiser

and right-click on it. Select

Disable

.
Method 2. Delete CompatTelRunner.exe after taking ownership of it
The following method requires having the Administrator privileges on the computer. So before you begin, log into your computer using Administrator's account (whichever account has admin's rights).
The given method describes how to delete only the Compatibility Telemetry Runner file, not the entire KB2977759 update. Removing the whole update can mess up the schedule of Windows updates, so we do not recommend doing so.
Open Windows search and type CompatTelRunner. Right-click on the matching result to see options and select

Open File Location

. Or you can just go to

C disk

, then to

Windows

folder, and then to

System32

folder. An even easier method is to open

Run

(

Windows

key +

R

), type C:\Windows\System32 and press

Enter.

In the System32 folder, find the file called

CompatTelRunner.exe

.
Right-click the file and choose

Properties.

Now, go to the

Security

tab and click

Advanced

button here.
Next, open

Owner

tab and click

Change

option. Then choose

Advanced.

 Then click

Find Now

.
This displays a list of owners, so select the account you are using right now and click

OK.

 Then close tables by clicking OK

.  In Advanced Security Settings table, click Apply and OK.

 You might be asked to close all

Properties

windows, so do so.
After changing the file owner, you have to change the permissions for the file. Right-click

CompatTelRunner.exe

file and open

Properties

once again. Navigate to

Security

tab >

Advanced

> Select User from a list >

Edit

.
A new window then opens, offering permission suggestions. Look at

Allow

column and select

Full Control

. Click

OK.

Then

Apply

and

OK

. Click

Yes

to confirm your choice.
Now that you have full control of the file right-click the file and

Delete

it.
Method 3. Disable Microsoft Compatibility Telemetry via Group Policy Editor
Press

Windows key + R

to launch

Run

prompt and type gpedit.msc, then press

OK

.
Now, expand the folders in the given order –

Computer Configuration

>

Administrative Templates

>

Windows Components

>

Data Collection

and

Preview Builds

.
Double-click

Allow Telemetry

and select

Disabled

option in a new window that appears. Click

Apply

and

OK

.

Method 4. Disable Telemetry via Registry Editor
Press

Windows

key +

R

at the same time and type in the Run prompt: regedit. Press

OK.

User Account Control window then appears, click

Yes.

Now, go to

HKEY_LOCAL_MACHINE

>

SOFTWARE

>

Policies

>

Microsoft

>

Windows

>

DataCollection.

Here, right-click on

DataCollection

and select

New

>

DWORD (32-bit value)

. Give this new value name Allow Telemetry and then double-click it. Change

Value

data to

0

(zero) and click

OK.
Method 4. Look for other issues causing slow Windows performance
One of the provided methods should have helped in fixing Microsoft Compatibility Telemetry High CPU issue. However, if you still experience system slowdowns and want to take extra step towards peak computer's performance, consider reading these steps on how to speed up Windows 10.
Some users have expressed complaints online about compattelrunner.exe with error 0x8024002e. In you're dealing with this Windows update error, consider reading more about available 0x8024002e fixes.
We hope that you managed to fix the high CPU issue and your computer works smoothly now. If you have tested other methods to solve the described issue, don't hesitate and share them with our community below!
This post was first published on Jul 31st, 2019, and updated since then.
Norbert Webb is the head of Geek's Advice team. He is the chief editor of the website who controls the quality of content published. The man also loves reading cybersecurity news, testing new software and sharing his insights on them. Norbert says that following his passion for information technology was one of the best decisions he has ever made. "I don't feel like working while I'm doing something I love." However, the geek has other interests, such as snowboarding and traveling.